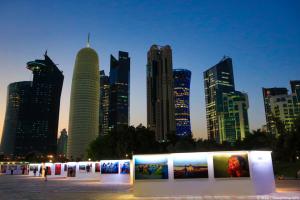 Exposition HOPE
11/09/2012
The arts play an important role in raising awareness, in rallying people around shared values and inspiring them to strive towards their ideals.
In this spirit WISE presents HOPE, a retrospective in Doha by acclaimed photographer Reza who since 1982 has presented his perceptions of the lives of individuals and communities through striking visual narratives.
The HOPE exhibition is a retrospective of 30 years of these visual narratives that, in the photographer's words, "reveal the invisible boundaries where joy verges on despair, where conflict meets indulgence, but where life always triumphs."
HOPE presents 80 photographs – including several created exclusively for the WISE publication Learning a Living: Radical Innovation in Education for Work.
These prints, presented as diptychs and triptychs, tell many stories from many parts of the world, ranging from the Panjshir Valley of Afghanistan to the River Amur in eastern Asia and the heights of Algeria's Assekrem plateau.
"Each image documents a significant life-moment, an encounter with women, men and children whose expressions and gestures speak for the whole of humanity," says Reza
Exposition HOPE
November 7th thru December 15th, 2012
Sheraton Park, along the corniche at Doha, Qatar
World Innovation Summit for Education
November 13th - 15th, 2012
Doha, Qatar