Osanna Vaughn
About us
Ethic & Development Circle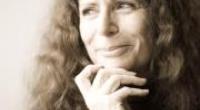 Osanna Vaughn
NGO Executive / Writer
Speaking four languages, Osanna Vaughn has traveled extensively all over the world. She is a global citizen with a world vision where unity and diversity coexist in harmony. Through cultural expression in every form imaginable, she is convinced of humanity's creative potential when key values such as respect, empathy and compassion lead the way.
She studied classical ballet from 1958 to 1973 and then worked as representative in Spain for the Royal Academy of Dancing. She is the author of a mystical fantasy series for young teenagers, children's stories, song lyrics, film reviews, and works as a translator with a focus on photography and design.
In recent years, as chair lady of the World Subud Association from 2005 to 2010, she was involved in a variety of international conferences including Religions for Peace in Kyoto 2006, various meetings for the Coalition in support of a UN Decade of Interreligious and Intercultural Dialogue for Peace and Understanding as well as the Parliament of World Religions in Melbourne, Australia, 2009.