Larry Vierra
About us
Ethic & Development Circle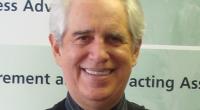 Larry Vierra
International Business Advisor
Larry Vierra is a professional planning, marketing, sales executive and advisor with over 25 years of experience. He provides financial, operational and business planning, strategies to high-growth, evolving, underperforming and start-up businesses. He utilizes proven as well as non-traditional approaches to organizational development and change management. He is able to assist companies by identifying the underlying problems and successes within an organization and develop and implement strategies for each. In addition he is capable of assisting companies planning a public offering through an IPO.
Mr. Vierra's past experience includes the position as Executive Vice President with the Ronald Lauder Family, Senior Vice President with GTE, Vice President of Charles Schwab & Co. as well as being a University instructor teaching MBA and Export courses.
His skills include planning, budgeting and forecasting, market research and predictive modeling, new product development, P&L responsibility pricing, contract negotiation, sales force and distributor management, advertising, PR and promotion management, competitive intelligence and market analysis.
He is presently the Chairman of the Board at WealthCare Center and Director at Nevada Small Business development center. Mr. Vierra also teaches graduate courses in Business at the University of Nevada and presently resides in Las Vegas.